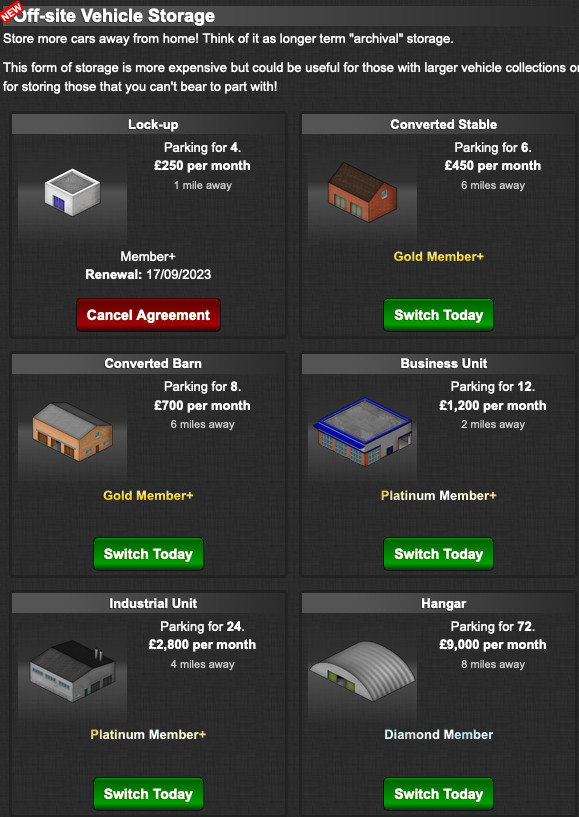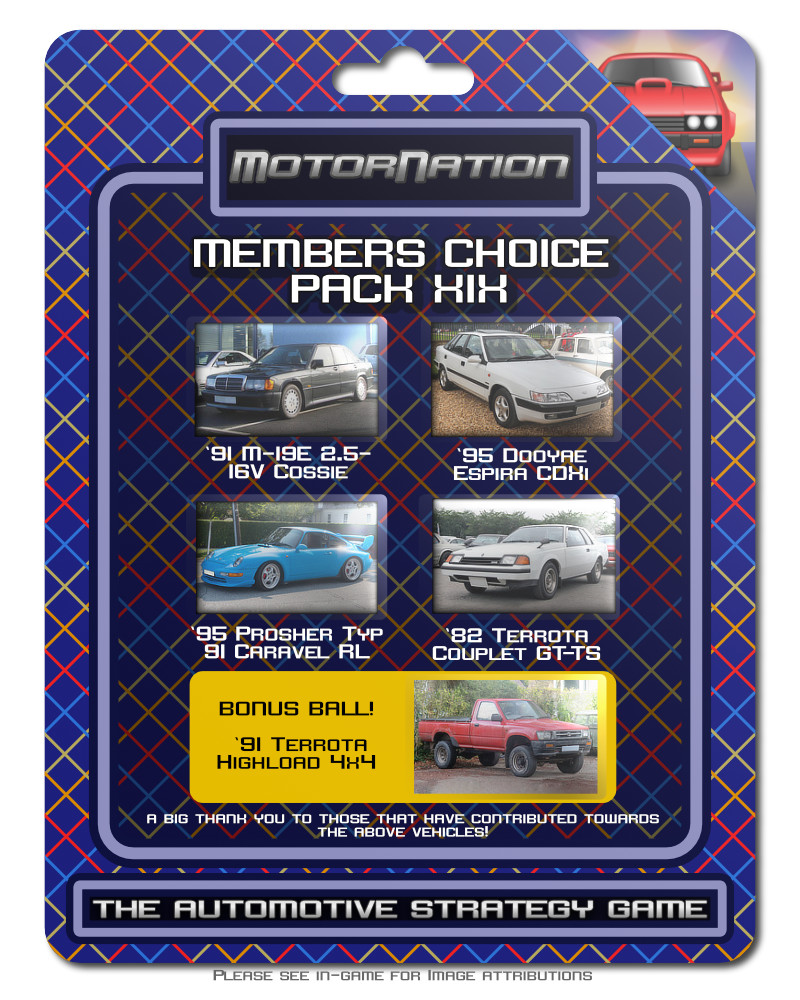 Big releases have been a bit fewer and far between than I'd have liked, despite the hard work going on behind the scenes, so I'm pleased to kick off this post with the release of a significant new feature: New Vehicle Storage options!
Members now have access to a further storage option - off-site vehicle storage! The options are membership tier dependent to give something back to those that help keep the game afloat! With six options in total:
Lock-up: Offering storage for 4 additional vehicles (All Members)
Converted Stable & Barn: Offering storage for 6 and 8 additional vehicles respectively (Gold Members and above)
Business & Industrial Units: Offering storage for 12 and 24 additional vehicles respectively (Platinum Members and above)
Hangar! Offering massive storage for up to 72 additional vehicles respectively (Diamond Members only)
Other things to note:
You can sign up for vehicle storage via the Estate Agent, as per the previous single garage rental!
The 'archive' storage works a little differently to what has existed in the game up until now. Vehicles in storage are limited in what they can do unless they are retrieved.
Vehicles in storage can be retrieved from a new 'Storage' tab in the Player's Garage.
Despite the above, the new storage options are not located at the player's house and they must travel back and forth to visit their vehicle storage. Worth bearing this in mind in terms of game time and fuel usage!
Rentals are now cancelled for players who have not logged in for 10 days. This is to protect their money from being drained whilst they are not playing! Upon coming back to the game, they may wish to re-apply for the relevant vehicle storage or perhaps move your vehicles from out of storage going forwards!
In the event that your rental lapses, you will still have the option to retrieve your vehicle for an (in-game) fee. This means you should never lose access to your vehicles.
There are now confirmation screens when cancelling or signing up for rentals.
The basic premise of this is to provide additional storage options to those that:
Have exceeded their housing options.
Want to by-pass the saving for the next house upgrade when they spot a vehicle that they must have!
It is also a way for me to say thank you to all members, especially those that opt to pay for higher tiers. This keeps the game development progressing, a roof over my head and food on the table! Thank you!
As a monthly in-game fee is taken for the storage, especially the bigger options, it also offers a new layer of strategy for those that wish to have an especially large vehicle collection!
Welcome to the release of the 19th Members Choice Pack as chosen by the community!
1991 Marque-Denizen M-19E 2.5-16V Cossie:
A shift in focus meant this rally-destined machine, instead found its way to pounding around the track in the premier German touring car series!
1995 Dooyae Espira 2.0 CDXi:
Priding itself on an impressive spec. for the price, this South Korean family car pushed the boundaries as to what the British public could expect for their money if they didn't mind giving a different brand a chance!
1995 Prosher Typ 91 3.8 Caravel RL Club Sport:
Now seen as the pinnacle for naturally aspirated Typ 91s, this race bred special is sure to appeal for a variety of reasons!
1982 Terrota Couplet 1.8 GT-TS:
A rare, homologation special, this twin-cam turbo'd car provided the rugged reliability base for a cool looking, if slightly unfortunately timed, rally beast!
1991 Terrota Highload 2.4D 4x4 Pick-up*:
(Bonus) Some say it is the later generation of a legendary indestructible pick-up truck, others may have desired it when they got back to the future, all we know is that it's one dependable work horse!
The following vehicle was also updated:
1991 Marque-Denizen M-19 2.0 E
As usual, the above vehicles may be available new or second hand in the classifieds, as appropriate, from time to time! All players can access these vehicles. A massive thank you to those that have contributed towards getting these in-game!
* Unfortunately, the 4-door version wasn't available in the UK for this generation. Pictures were also hard, as well as ambiguous, to come by across different versions, so instead I've opted for the more common UK variant — apologies for any disappointment!
In the past, there have been cases where small groups of players try to empty the classifieds. This is something I always anticipated, and took steps to mitigate, but it can still cause disruption to players.
To tackle this, I have now made changes so that vehicles that are bought and quickly re-sold will now re-appear in the classifieds. This all being well should further mitigate the issue, and as part of this I also thought I'd add something of visual interest - vehicles that are now sold will now briefly show as such in the classifieds!
Also: It is no longer required to remove any classified advert before quick selling vehicles!
Unfortunately, this was missed, certainly not helped by once again having some advertising difficulties! I will be spending some time on this very soon to try and get this fixed to hopefully get things back on track!
Due to rampant inflation across much of the world over the past year, I will unfortunately have no choice but to raise the prices for new members and will affect those switching to a different tier in the near future. This will also unfortunately affect those that wish to buy annual memberships through Ko-fi going forwards as there is no automatic renewal for that. Annual Ko-fi members will at least have already benefited from previous annual membership discounts (and new ones will too, going forwards!).
Whilst I wish I could absorb such increases; this simply isn't possible with my own expenses increasing and being behind where ideally need to be from a financial point of view. I will, however, try to keep them as low as possible.
In general, and as before, existing members will be unaffected by these changes providing you do not switch member tiers and that you keep your subscription running.
It is easy to overlook how much work has gone into these changes, but it has been significant. This is reflected in the game jumping from version 0.47.x straight to 0.49.0! I also decided that it was time to try to manage some of the games 'technical debt' as the game, as well as the code base has grown. Because of this, there were a lot of code changes. I will likely talk about this more in the next member update, due soon!
Despite my best efforts, issues may occur. If you spot anything that seems amiss, then please report it and I will look to rectify such issues as appropriate.
Otherwise, enjoy the changes and, as always, know that there is more to come!
With the Job Centre offering the ability to do much more in the game, as well as the new vehicle storage options(!), there has never been a better time to join! Every penny makes a difference and it only costs from as little as £2.50 a month! (when paid yearly)
Don't miss out on the full experience!
Other noteworthy changes since v0.47.0:
Added own vehicle submission
Platform upgrades
Updated sustainability metrics
Fixed error when invalid track specified
Much re-factoring and improvements to the game's codebase and tests.