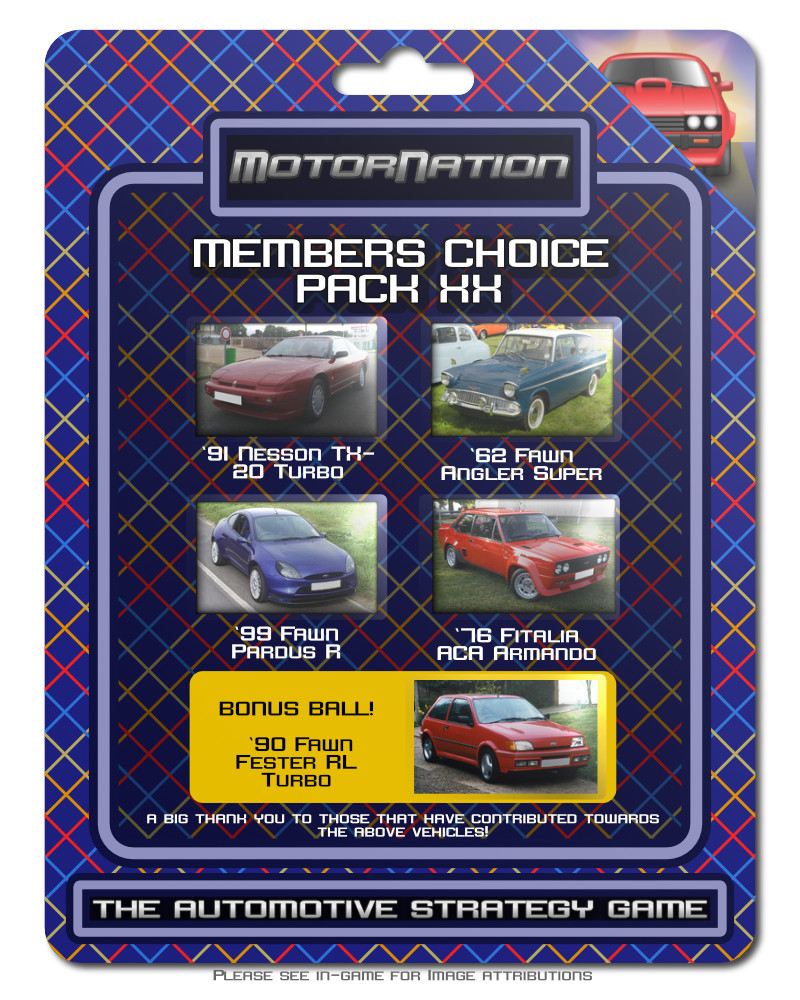 Welcome to the release of the 20th(!) Members Choice Pack as chosen by the community!
1991 Nesson TX-20 1.8i Turbo:
At the turn of the millennium many of these were converted into drift weapons, and most now adopt the 'Trigger's Broom' philosophy.
1962 Fawn Angler 1.2 123E Super:
Despite a slightly bigger engine than the standard car, you will still need a fair bit of magic to make it fly!
1999 Fawn Pardus 1.7 R:
A unique, and very much looking of its time, it was one of the few front-wheel drive cars that could give the top Japanese rivals a run for their money.
1976 Fitalia ACA 2.0 Armando Rally:
A fantastic example of turning a humdrum three-box saloon into an amazing looking flared arched rally special!
(Bonus) 1990 Fawn Fester 1.6 RL Turbo:
Despite being a bit brasher and coarser than some of its rivals, it nevertheless became a favourite amongst aspiring Boy racers!
As usual, the above vehicles may be available new or second hand in the classifieds, as appropriate, from time to time! All players can access these vehicles. A massive thank you to those that have contributed towards getting these in-game!
Members can now see a preview of the current Members Choice poll standings in the Members Discussion forum. Want to vote for these car packs and not already a member? Check out the membership page to check out what benefits membership brings!
With new membership perks being regularly added, there has never been a better time to join! Every penny makes a difference and it only costs from as little as £2.50 a month! (when paid yearly)
Don't miss out on the full experience!